Allopathic Cough Syrups Are Fatal Drugs!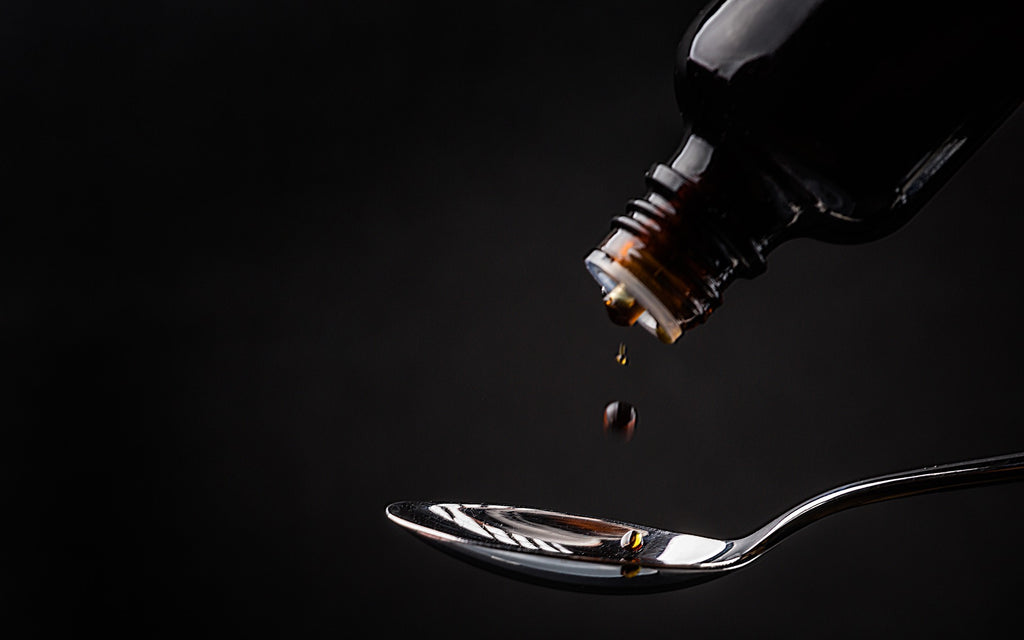 Indian youth has been adversely abusing the Codeine over ages to achieve that narcotic high caused by opioids and the numbers are pretty massive. Unknowingly, but sadly, millennial Indians are also addicted to these codeine-based narcotics as allopathic and non-prescribed cough syrups. High rates of abuse in the youth-led government to outlay a regulatory lawsuit against production and availability of these codeine-based cough-syrups throughout India.

With increased numbers of fatalities and addicts across the street, the Kho-Go team finds it necessary to offer a prominent solution to seasonal cough and cold viruses so that people won't get addicted to codeine in the first place. We are offering 100% Ayurvedic cough-syrups bagged with herbal products to treat your allergies without getting addicted.

Below, you will get to know how Ayurveda can be the answer to a leading healthy lifestyle if properly adapted, and what can be the consequences of using allopathic and codeine-abled medicines.

What is Codeine?

Codeine is a medium opiate that treats mild joint pains and also acts as a cough suppressant in allopathic cough syrups.
Astoundingly, these codeine-based cough syrups are not generally prescribed to patients under 18 years old due to the opioid-based narcotic suppressants available in it. Overdosing on these psychoactive narcotic substances can lead to serious side-effects including dizziness, blurred eyes, constipation, nausea, and vomiting.
The ease and availability of these allopathic and codeine-based cough syrups make it popular among teenagers. Ease of consumption and an adverse psychoactive high is the foremost

Long-Term Overdosing Fatal Effects of Cough Syrup Abuse

While the short-term abuses cause a diversified number of health issues like blurred vision, irregular heart rate, severe headaches, and partial dizziness, long-term abuse can lead the patient to much difficult health problems.
One thing you should be sure of those long-term health fatalities from overdosing is even worse.
Regular codeine abuse can lead to the below-mentioned drastic side-effects to our nervous system.

Random Hyperactive Delusions

Led by the internal neural system, long-term abuse can cause delusions that can affect the overall brain functioning and decision making.

● Partial Dizziness and Sedation Issues
Not having much energy to cope up with day-to-day tasks is a severe issue if you're taking the codeine for longer-instances.

● Short-Term Memory Loss
Difficulty in remembering things comes is the foremost found side-effect in codeine addicts worldwide. A narcotic high of Codeine feels like time is skipping and you barely remember anything that happened in between.

● Mismatched Neural coordination
Can result in poor decision-making and absurd behaviors to people around you and the effects can worsen over-the-time.

● Dissociation
Long-term abuse can lead to poor mental coordination and decision-making skills. Sadness and unhappiness are also major results.

● Chances of Epilepsy(Redundant Brain Seizures)
A sudden pinch inside your head leads by the electrical imbalances inside the neural system that lead to sudden unconsciousness and uncontrollable behaviors.

● Cravings to get more addicted
Codeine somewhere relates to narcotic drugs. So, the craving for addiction can worsen over time. Long-term abuse can lead to drastic health issues.

In some cases, these long-term cough syrup abuse can lead to permanent organ failures that resulted in thousands of deaths across the globe each year.

Don't let anyone in your family use these codeine-based cough syrups as they might get addicted and can lead to permanent abuse.

Teens, especially 15-24 years have been found as the most tragic abusers of these allopathic cough syrups.

Old people are also widely affected by codeine abuse throughout India as they use this as their regular dose of sleeping drug. The effects are wild on old people rather than young generations. So, don't let a common winter flu turn you into a codeine addict for a lifetime.

Why is Ayurveda the answer to living a healthy and addiction-free life?

Winter is already here!

Cough and cold are most common during winters. But, deft medication can ease your hustle and bustle of having uncontrollable coughs and other ailments.

However, there's still an underlying problem!
How to know which cough syrup has codeine or not?

The answer is almost all allopathic and medication prescribed cough-syrup contain one thing in common. ie Codeine.

Let Ayurveda do the work for you. Each product and medicine manufactured by Ahilya Ayurvedic Aushadhalaya is curated with primitive herbs to mender your illness naturally. We assure that no harmful chemicals are used to create Kho-Go's Herbal products.

To overcome that loophole of finding the best cough syrups in India, you must have a look at our 100% Natural and Ayurvedic Cough Syrup from Ahilya Ayurvedic Aushadhalaya- Kho-Go.

It is a codeine free cough syrup to soothe your throat ayurvedically.

Years of Ayurvedic repository when encompassed into modern science, that's when Kho-Go Cough syrup lands in.

Kho-Go's Legacy Continues...

Bagged and Established by the Ayurveda Guru Late Shri Murlidhar Mahadev in the 1950s with a zeal to study the Ayurvedic mantra to stay fit in every aspect of life. Countless numbers of researchers lead the Guru to procure the first ayurvedic anti-cough pill named Kho-Go.

The Kho-Go Cough Syrup is made with 100% natural ingredients and remedies alongside without any harmful chemicals used. An ayurvedic solution to cope up with these winter problems like congested chest, sore throat, and unbearable cough.

Benefits of Kho-Go Ayurvedic Cough-Syrups-
● Menthol Free Cough Syrup
● 100% Herbal and Organic Medicines
● Hassle-free shopping ( Get Your medicines delivered to home)
● Zero-added Chemicals means no side-effects
● 55+ years of Trust

Final Verdict
Founders of Kho-Go were extremely enthusiastic towards the fact that Ayurveda if mixed with modern science can endure the cure for any common virus to a fatal disease. We are continually hustling to produce the best herbal medicines and products for our customers.

With this pace of modernism, a pinch of immortal sciences and Ayurveda is the Kho-Go's- keeping its legacy kept in offering the finest ayurvedic cough syrups in India.

We want you and your loved ones to stay safe. Get every Kho-Go product delivered home. Limited period offers!

Shop today to avail discounted benefits on ​our ​ayurvedic products​ online.

Stay Safe... Happy Winters!!!